Use Apple Pay with Zip | Zip Pay
Tap to pay with Zip Pay
Now you can tap to pay with Zip Pay everywhere, everyday, interest free.
Think of the possibilities
One tap with your phone and you can pay for your petrol, the groceries, and even your morning coffee. Interest free with Zip Pay.*
No need to ask, just Zip it.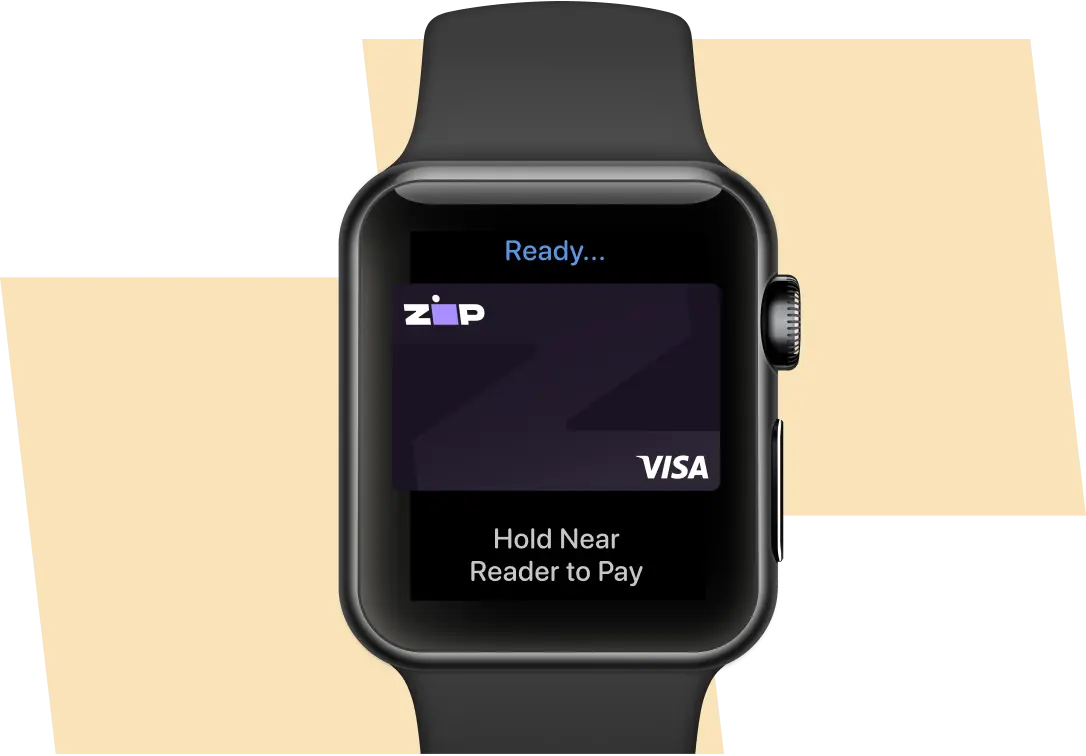 How to add Zip to Apple Pay
Download the Zip app and navigate to the cards tab. Tap 'Get a card' and accept the terms to activate. Add to Apple Pay, and you're all set.
How to pay instore and online
How to Pay Instore

iPhone
To pay with Face ID, double-click the side button, glance at your screen, then hold iPhone near the reader. Here's how

For Touch ID, hold your iPhone near the reader with your finger on Touch ID. Here's how

Apple Watch
On Apple Watch, double-click the side button and hold Apple Watch up to the reader.

How to Pay Online

To pay in apps and on websites in Safari on your iPhone, select Apple Pay at checkout and complete the payment using Face ID or Touch ID. To pay on websites in Safari on your Mac, select Apple Pay and complete the payment using your iPhone or Apple Watch.
Zip with Apple Pay. The safer, more private way to pay.
When you make a purchase, Apple Pay uses a device-specific number and a unique transaction code. Your full card number is never stored on your device or on Apple servers, and it can't be shared with merchants. Apple Pay doesn't keep transaction information that can be tied back to you, ensuring all purchases are private.
Where to use
Use Apple Pay wherever you see one of these symbols.*

References
Apple and Apple Pay are trademarks of Apple Inc., registered in the U.S. and other countries. VISA is a trademark owned by Visa International Service Association and used under license. The Contactless Symbol is a trademark owned by and used with permission of EMVCo, LLC.
* Tap to pay in store available with Zip Pay only. Use the Card everywhere that Visa contactless payments are accepted in store. Card T&Cs apply