Why choose Zip?
Sign up in minutes

Applying is fast and easy so you can start shopping today!

Shop just about everywhere

Shop at all your favourite places, online and instore, with the Zip app.

Flexible repayments

You're in control by paying later at your own pace.
How to pay with Zip at
1300SMILES

in 3 simple steps
Apply for a Zip account in minutes

Shop at 1300SMILES online or in store

Pay with the app or tap to pay with Zip* using your digital wallet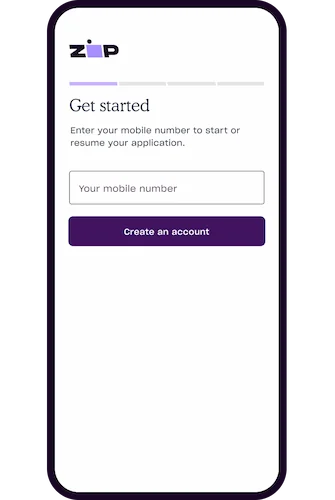 Loved by millions of shoppers globally and counting
Best buy now pay later option available.
Out of all the buy now pay later companies, ZipPay has the most option available for using in store and online having the create temporary card feature and apple wallet tap and pay features.
Verified
In Love with Zip Pay.
I wish I could give them more than 5 stars! Lucky to be born in the world of Zip, helped me get through many difficult times. Thank you so much Zip Pay. I love you!
Verified
Very helpful in need!
Zip is very helpful when you don't have money in your savings or credit card. Instalment payments are very flexible.
Verified
Zip is the best among them
I've used all the other platforms, and I think none is close to Zip. The flexibility and unlimited nature of transactions from BPay to Credit Card to in app purchasing. None of the others come near to it.
Verified
Just love knowing I have Zip
I feel I have my own independence being able to have a system like Zip. I can purchase items I love for myself and for others too. To be able to pay back what I can afford without breaking the budget.
Verified
I CAN USE THIS ANYWHERE!
Literally - In Store or Online - Virtually on ANY (well almost) kind of purchase.
Verified
Always there
If find Zip really easy to use and always there when I need them. Hassle free and paying back is easy too.
Verified
Convenient and helpful
When purchased big ticket item it's so convenient to pay by ZIPPay because can be paid back by instalment without interest
Verified
Zip metrics
Millions of Zip customers across Australia, New Zealand and the US

Over 45000 merchants across Australia and New Zealand

4.9/5 App Store rating from over 251K reviews
About 1300SMILES
Dreaming of a beautiful white smile? 1300SMILES was founded with the vision to offer high quality and affordable dental care for the whole family. There are over 30 full-service 1300SMILES dental facilities in ten major population centres in Australia, making it easy to find affordable quality dental care near you. From routine dentistry to complex cosmetic, restorative and implant dentistry, we can provide you with the treatment you need. All dentists are selected based on their clinical skills and are committed to ongoing training to help them provide you with the latest and highest standards of dental care. The 1300SMILES team knows that it can sometimes be a financial burden to cover the cost of dental care. That's why they've introduced a number of payment options to help you manage your budget as well as your health. Zip is one of these 1300SMILES payment options. It's simple and easy to set up a Zip Money or Zip Pay account online, and both will give you the freedom to access the dental care you need, when you need it. Using Zip allows you to buy now and pay later so you won't have to wait for payday. Whether you prefer to make your repayments weekly, fortnightly or monthly, there's a flexible option that will suit you. It's easy to sign up for Zip if you don't have an account, and you could be approved in minutes. Next time you need to book a visit to a dentist, choose 1300SMILES and forget about fronting the costs for treatments and services. Buy now and pay later with Zip for 1300SMILES.Zip may earn a commission
Visit store
Have a question?
Here are some FAQs to help you get to know Zip better.
Yes! Zip allows you to shop just about everywhere, online and instore. We give you the flexibility to set your repayment schedule to suit your lifestyle – choose weekly, fortnightly, or monthly. You can also pay your bills, manage your subscriptions, buy gift cards and earn rewards when you use the Zip app.
References
* Tap to pay in store available with Zip Pay only. Use the Card everywhere that Visa contactless payments are accepted in store. Card T&Cs apply. Single-use card available with Zip Pay and Zip Money only. Use the Card everywhere that Visa contactless payments are accepted online. Card T&Cs apply.