Why choose Zip?
Sign up in minutes

Applying is fast and easy so you can start shopping today!

Shop just about everywhere

Shop at all your favourite places, online and instore, with the Zip app.

Flexible repayments

You're in control by paying later at your own pace.
How to pay with Zip at
Avenue Dental Kawana

in 3 simple steps
Apply for a Zip account in minutes

Shop at Avenue Dental Kawana in store

Pay with the app or tap to pay with Zip1 using your digital wallet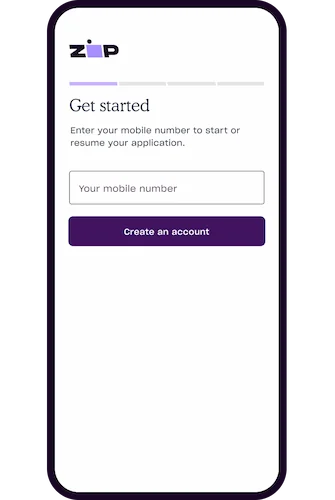 Loved by millions of shoppers globally and counting
Best buy now pay later option available.
Out of all the buy now pay later companies, ZipPay has the most option available for using in store and online having the create temporary card feature and apple wallet tap and pay features.
Verified
In Love with Zip Pay.
I wish I could give them more than 5 stars! Lucky to be born in the world of Zip, helped me get through many difficult times. Thank you so much Zip Pay. I love you!
Verified
Very helpful in need!
Zip is very helpful when you don't have money in your savings or credit card. Instalment payments are very flexible.
Verified
Zip is the best among them
I've used all the other platforms, and I think none is close to Zip. The flexibility and unlimited nature of transactions from BPay to Credit Card to in app purchasing. None of the others come near to it.
Verified
Just love knowing I have Zip
I feel I have my own independence being able to have a system like Zip. I can purchase items I love for myself and for others too. To be able to pay back what I can afford without breaking the budget.
Verified
I CAN USE THIS ANYWHERE!
Literally - In Store or Online - Virtually on ANY (well almost) kind of purchase.
Verified
Always there
If find Zip really easy to use and always there when I need them. Hassle free and paying back is easy too.
Verified
Convenient and helpful
When purchased big ticket item it's so convenient to pay by ZIPPay because can be paid back by instalment without interest
Verified
Zip metrics
Millions of Zip customers across Australia, New Zealand and the US

Over 45000 merchants across Australia and New Zealand

4.9/5 APP STORE RATING FROM OVER 251K REVIEWS
About Avenue Dental Kawana
This year marks our 8th year of serving the Kawana Waters community with ethical, gentle, quality care and we couldn't be prouder. Our mission has not changed since opening our doors in April 2011; "To excel in exceeding our patients expectations every time they visit". Compliments from our wonderful patients has always been filled with comments like; "I used to hate coming to the dentists but they have given me faith in getting treatment again."; "They take the time to explain everything."; They are such a fun group of people that genuinely like working with each other."Currently there are four dentists, Dr Heath Fraser who is the visionary and principle dentist of this prestigious practice; Dr Kristin Sorensen, Dr Hess Kim and Dr Sean Currie, our three associate dentists. Our dentists aresupported by a passionate and extremely knowledgeable team of oral health hygienist/therapists, Tina O'Shannessey, Denise Georgeos and Julie Carranza. All our clinicians offer a professional and highly skilled service in all aspects of dentistry such as;Single visit crownsImplantsCosmetic treatmentsSleep studiesBad breath analysisFacial injectionsOrthodonticsPeriodonticsEndodonticsFamily dentistryHappy gas and IV sedationWhitening - in-house & take homeFull mouth rehab & cosmetic enhancementsDenturesDigital impressions & 3D printer onsiteKids play room and patient relaxation loungeGround floor access and large treatment roomsEmergency treatment on the dayVisit us today to discover what a great dental experience should feel like. Our supportive and empathetic team are trained to provide gentle treatments and create an environment where you are in control.Here are some beautiful words from our patients posted on Google Review after receiving care from our highly trained and dedicated employees;"I took my kids to Avenue Dental, the nurses and dentist were amazing. My kids are no longer afraid to go to the dentist!! Thankyou so much!!" L. HollingworthZip may earn a commission
Visit store
Have a question?
Here are some FAQs to help you get to know Zip better.
Yes! Zip allows you to shop just about everywhere, online and instore. We give you the flexibility to set your repayment schedule to suit your lifestyle – choose weekly, fortnightly, or monthly. You can also pay your bills, manage your subscriptions, buy gift cards and earn rewards when you use the Zip app.
References
1 Tap to pay in store available with Zip Pay only. Use the Card everywhere that Visa contactless payments are accepted in store. Card T&Cs apply.
Single-use card available with Zip Pay and Zip Money only. Use the Card everywhere that Visa contactless payments are accepted online. Card T&Cs apply.