Why choose Zip?
Sign up in minutes

Applying is fast and easy so you can start shopping today!

Shop just about everywhere

Shop at all your favourite places, online and instore, with the Zip app.

Flexible repayments

You're in control by paying later at your own pace.
How to pay with Zip at
Oxygen Music

in 3 simple steps
Apply for a Zip account in minutes

Shop at Oxygen Music online or in store

Pay with the app or tap to pay with Zip* using your digital wallet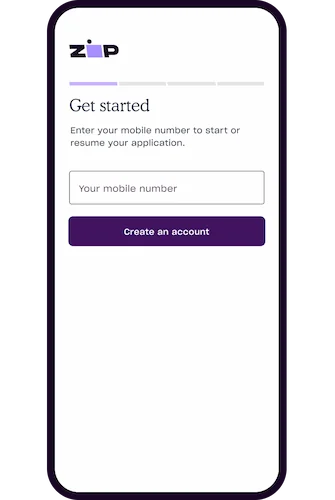 Loved by millions of shoppers globally and counting
Best buy now pay later option available.
Out of all the buy now pay later companies, ZipPay has the most option available for using in store and online having the create temporary card feature and apple wallet tap and pay features.
Verified
In Love with Zip Pay.
I wish I could give them more than 5 stars! Lucky to be born in the world of Zip, helped me get through many difficult times. Thank you so much Zip Pay. I love you!
Verified
Very helpful in need!
Zip is very helpful when you don't have money in your savings or credit card. Instalment payments are very flexible.
Verified
Zip is the best among them
I've used all the other platforms, and I think none is close to Zip. The flexibility and unlimited nature of transactions from BPay to Credit Card to in app purchasing. None of the others come near to it.
Verified
Just love knowing I have Zip
I feel I have my own independence being able to have a system like Zip. I can purchase items I love for myself and for others too. To be able to pay back what I can afford without breaking the budget.
Verified
I CAN USE THIS ANYWHERE!
Literally - In Store or Online - Virtually on ANY (well almost) kind of purchase.
Verified
Always there
If find Zip really easy to use and always there when I need them. Hassle free and paying back is easy too.
Verified
Convenient and helpful
When purchased big ticket item it's so convenient to pay by ZIPPay because can be paid back by instalment without interest
Verified
Zip metrics
Millions of Zip customers across Australia, New Zealand and the US

Over 45000 merchants across Australia and New Zealand

4.9/5 App Store rating from over 251K reviews
About Oxygen Music
Oxygen Music is a locally owned and operated independent music instrument store that provides specialist departments including Guitars and Amps, Pianos and Keyboards, Drums and Percussion, Pro Audio and Recording, Band and Orchestral, Print Music, School Education, Repairs and Servicing.Oxygen Music stocks all the leading brands and offers a range of flexible and simple payment plans to help make your purchase easy.Our product trained staff are experts in their field and provide advice and experience to help make your buying decision easier. You will always feel welcome in the store, have your questions answered and be confident your purchase will give you years of musical enjoyment.Oxygen Music proudly teams up with many of the regions schools, teachers and music education departments with our Music Education Partnership Program. Through this, Oxygen Music are committed to ensuring music schools and teachers have the highest level of service, support and best pricing for their departments and students.Our professional PA and Pro Audio Department also provide quality audio equipment hire for parties and band gigs.Oxygen Music extends its services to include Oxygen College (a creative college offering courses in Music Performance, Audio Engineering, Photography, Visual Art and Digital Content Creation), Oxygen Tuition (a music school offering individual lessons on Guitar, Piano, Drum Kit, Violin and Singing) and don't Poke the BEAR (a recording and rehearsal facility)Our aim is to always provide all customers with the best advice, quality products, the best prices and musical enjoyment for life.Zip may earn a commission
Visit store
Have a question?
Here are some FAQs to help you get to know Zip better.
Yes! Zip allows you to shop just about everywhere, online and instore. We give you the flexibility to set your repayment schedule to suit your lifestyle – choose weekly, fortnightly, or monthly. You can also pay your bills, manage your subscriptions, buy gift cards and earn rewards when you use the Zip app.
References
* Tap to pay in store available with Zip Pay only. Use the Card everywhere that Visa contactless payments are accepted in store. Card T&Cs apply. Single-use card available with Zip Pay and Zip Money only. Use the Card everywhere that Visa contactless payments are accepted online. Card T&Cs apply.